Extracting PAK Files
Applies to: Epic Mickey, Epic Mickey 2
Requirements:
Steps:
1. Create a folder somewhere on your PC to place all your files for extracting PAK files in.
2. Download QuickBMS and place it in your working folder. This program will be used to extract the pak file.
3. Download the Epic Mickey BMS script here and place it in your working folder. (CREDIT: WRS from zentax.com)
4. Place the pak file that you want to extract in your working folder. Your working folder should now look similar to this: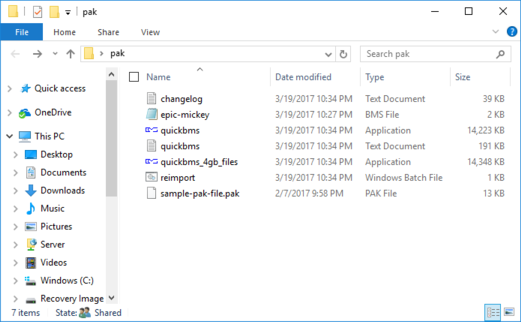 5. Open QuickBMS.exe and follow the steps. (select bms script, select file, select output folder) I recommend creating a new folder for your files to be exported to.
6. If the files were extracted successfully close the BMS terminal and navigate to your output folder.
Notes:
The files extracted from your PAK file are likely not to be easily readable. Consult the other file extraction guides on this site for how to open some of the files inside.